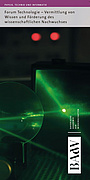 The Technology Forum of the Bavarian Academy of Sciences and Humanities (BAdW) organises public symposia on current scientific and technical issues and developments, which, in parts, are debated controversially. Subjects covered so far were for instance large-scale physics facilities, security and faith in the Internet, research with satellites and concepts for energy transition.
At a glance: A flyer (PDF) informes about the Forum's work.
Technologies Are Changing our Societies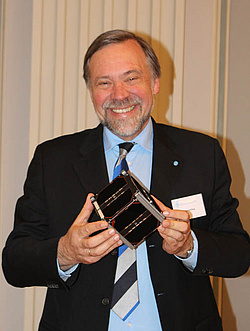 Please find here an overview of subjects covered so far.
The Technology Forum Symposia pursue a number of goals, among them
conveying technology and applied natural sciences basics in an easily comprehensible way
presenting technical innovations
reinforcing faith in technology and reducing technophobia
discussing the impacts of technical innovations on culture and society
technical consulting for representatives of politics and administration
enhancing technical understanding with multipliers, among them media representatives, teachers and lecturers in continuing education
Since 2005 a Schools Programme accompanies most of the symposia. The Technology Forum events are recognised by the Bavarian Ministry of Education and Cultural Affairs as further education for teachers.
In June of 2003 the "Ständige Ausschuss für Ingenieur- und Angewandte Naturwissenschaften" (BAdW Technology Forum) was founded with the Bavarian Academy of Sciences and Humanities (Bayerische Akademie der Wissenschaften). Among other purposes, its mission was "to organise public information and debating forums on subjects of scientific and general interest alike within the Academy".
In the course of the BAdW's structural reform, in 2015 the Technology Forum received its current name. In 2016 the restructuring was completed by installing the advisory board and the committee. The advisory board critically accompanies the Forum's work, while the committee is planning and organising the Forum's events as well as conducting the current affairs (see also under Organisation).
The Technology Forum is funded by the Free State of Bavaria as a project of the Bavarian Academy of Sciences and Humanities.
The Schools Programme is facilitated by generous support from the Academy's Foundation funds.